#TalkingTuesdays is a time for open, effective dialogue on how our followers truly see the world and it's events as well as positively interact with one another.  Every Tuesday, we pose some questions which you can answer by tweeting us, using the hashtag #TalkingTuesdays or commenting on this post.
Should Black football players in Euro 2012 be reprimanded for walking off if they suffer racist abuse from the crowd?  http://bit.ly/LhpkcG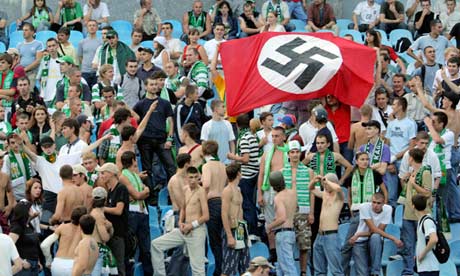 Ukranian football supporters



Does rapper Nas giving Gwyneth Paltrow a 'pass' to use the N word hold any weight?  http://bit.ly/LjFroy
June is Black Music Month.  Can one race be associated with a certain music genre/art form?  http://bit.ly/MzC9gu
What's the last positive thing you said to someone?
 To respond to any of these questions, you can either comment on this post, tweet us @IAMPOSSIBIL3 using the #TalkingTuesdays hashtag or use our Facebook wall.  Get involved!